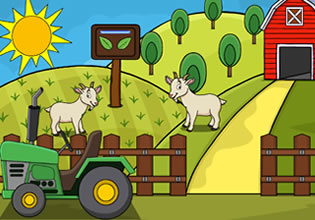 Rescue The Grandpa From Farm House
Niel's grandpa is really living a simple life in his farm, he is even dressed as some sort of ancient Greek philosopher or something and when he asked him why, the old man just says it is comfortable and he really feels peace wearing it. Niel arrived at his grandpa's farm to visit him for the week, but there was a problem there though just when he set his feet in the property and of course Niel immediately sprung to respond to it!
Niel's grandpa was now tied-up on some wooden poles and it's weird why he was! Niel asked him what happened but his answers were not clear, he just wants to get free that's all, so okay then if that's what is going to get him to calm down then he'll free him, but he is going to need to find something that can cut him down. Escape players, want to help Niel here find a sharp tool so he can free his grandpa from being tied? Help find stuff then maybe in the old man's barn or maybe in his farm house for surely there will be something in any of those places that can be used.
Rescue The Grandpa From Farm House is a brand new point-and-click outdoors rescue escape game from Games 2 Jolly.
Other games by -
Walkthrough video for Rescue The Grandpa From Farm House