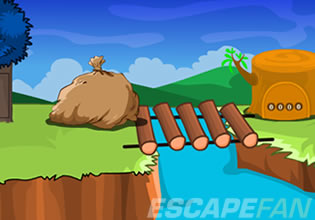 Rescue The Dog 2
Chloe was just heading to the village in the forest to see the houses there and the people's way of life too. But as she was getting near though and the houses are now visible from where she was, she found a cage which was clearly a trap for maybe wild boar but inside it was a dog which she thinks was Shiba Inu breed!
Why is such a sought-after kind of dog in this cage here? This one might be from the village and it escaped, and as it took a look at everything there in the forest, it got accidentally trapped. A likely scenario here right-now. So okay, Chloe doesn't want to tinker with other people's businesses really, but she strongly thinks that she should for the dog and its owner. Escape players, would you like to help Chloe here then break this dog free from the cage? Go ahead then and try not to damage the contraption too as you go.
Rescue The Dog 2 is a new point-and-click pet rescue escape game developed by 8b Games and Games 2 Mad. This game is a part of the first one as the start of the series.
Other games by -
Walkthrough video for Rescue The Dog 2