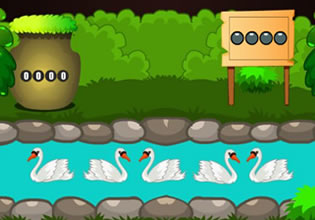 Rescue The Cute Birds
Guess Herman have made the right choice in moving into the land here, he used to live in the village a few kilometers away but things have become unstable there, so he now lives in this small house of his peacefully. That day, it seems that his bird cage outside have captured some three yellow small birds, he is not suppose to capture those though, so he'll find his key and release those guys.
Escape players, guess finding those keys are proving to be a little difficult here, would you like to help Herman then so he can eventually release those yellow birds back to the forest?
Rescue The Cute Birds is another new point-and-click animal escape game made by Games 2 Live.
Other games by -
Walkthrough video for Rescue The Cute Birds