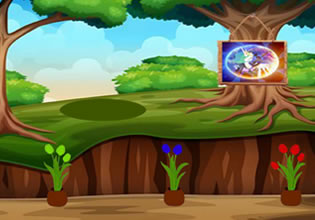 Rescue The Cobra
Raphael is going to go into the forest and check this cage he set just to see what he caught this time, he is thinking about fowl or swine which would really set him for days. But as he arrived in the area though he never thought he'll be finding such a creature in his cage and he was quite scared with what he saw!
What's in his cage was this big and scary cobra and when it saw him, the creature was just actively flaring! Raphael didn't want to do anything with this dangerous type of animal, but he needs to free this reptile or he won't be able to use his cage. Escape players, Raphael is trying to calm down here and think for if he makes a mistake on this then this snake could take his life. Care to help him then so he can free this animal safely?
Rescue The Cobra is a brand new point-and-click animal escape game from 8B Games and Games 2 Mad.
Other games by -
Walkthrough video for Rescue The Cobra