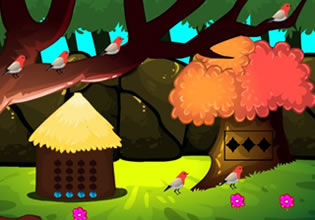 Rescue The Bee
Staying in this village is very much good for Tristan's health, for he lived in the city all his life and he is now feeling it. He had never been better since he practiced this new routine of his, now he has gone out from his simple house for he will be jogging today along the forest's path. As he was halfway along the trail though, he found some creature which was very different and it's inside a cage!
Tristan found a bee which was not only big, but also bipedal! What in the world was he looking at? Tristan was not afraid of it though and besides the creature seems friendly as it looks, but it is still trapped. Escape players, Tristan decided to free the bee from the cage just to see what will happen. He is very much curious of it, want to help him then for he has nothing at the moment that can surely open the thing?
Rescue The Bee is a new point-and-click animal rescue escape game developed by Games 2 Live.
Other games by -
Walkthrough video for Rescue The Bee