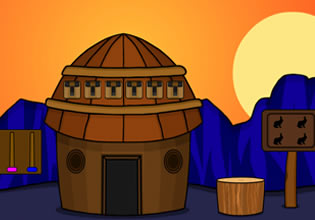 Rescue The Australian Zebra Finch
David just went out of his crude house in the wilderness to begin his day, the first thing he did was check on his trap for whatever is in there could be lunch. But he realized he had captured an animal which was pretty little in numbers in this area, that's why he needs to free it and then blow a sigh, that's because he needs to start all over again to catch a better one.
David captured an Australian Zebra finch and those at the moment are illegal to catch where he was. Okay, he'll just free this then, but he couldn't though, for he couldn't find the keys to that cage of his. Escape players, will you help David there then as he tries to free this bird?
Rescue The Australian Zebra Finch is another new point-and-click animal escape game made by Games 2 Jolly.
Other games by -
Walkthrough video for Rescue The Australian Zebra Finch