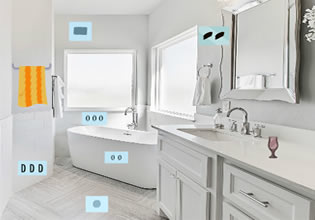 Renovative Bathroom Escape
Escape players, come and join the escape here from a luxurious bathroom. Renovative Bathroom Escape is the newest point and click indoor escape game created by Genie Fun Games. Best of luck!
All of the rooms of the new house Joan had purchased are luxurious especially the bathroom, it has a motif of white and everything there were almost fully-furnished, it was expensive but still okay for the price was absolutely worth it. Joan decorated all of the rooms according to her preference, it was definitely a busy week in the house and as a last place to refurbish, the bathroom must be fixed well so that it would like even more beautiful. But then as she did however, something happened while she was in there and that unfortunately got her trapped inside the room!
Joan was fixing the final finishing touches when she noticed in the corner of her eye, the door was slowly closing! She almost caught it for she knows that it can automatically lock when shut for she hadn't set it yet, well it did and now she is trapped. She really should have fixed the door first for it is the only way out. Okay now it's time to use your ingenuity on this escape players, care to join Joan here as you all try to escape out of the bathroom? Good luck then and use all the objects you can find with you at the moment.