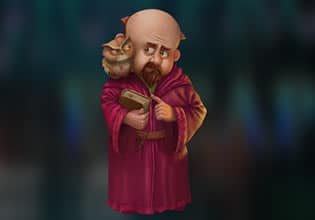 Regius Professor Escape
A very important person who was roaming around the villages being governed by the kingdom has come to visit this village here. That person is a professor with the highest honor, and right now he is conducting research on various topics which involves the people. Some people are not too keen on him coming though, for people like him are often bitter and have high standards, but the people there in the village where Barry lives are good, so they have to welcome him well.
And so they did and everything was settled as the professor conducts his research there, Barry only observes him from a distance for he has got nothing to do with the person, unless maybe if he is called by him. As the day progressed, it seems that he will actually be meeting this guy, even helping him actually for he got in some trouble there with a certain house! Escape players, the professor just got trapped in the old stone bastion there and because Barry was the only one observing him, he noticed him immediately when he got in trouble. You will now be playing as Barry here and the rescue for the professor must be carried out. Will you be able to get him out of where he is trapped? Do this then and you might even become friends there.
Regius Professor Escape is a brand new point-and-click rescue escape game from Games 4 King.
Other games by -
Walkthrough video for Regius Professor Escape