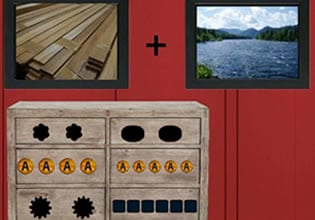 Red Room Escape (8b Games)
Hanna woke-up and found herself in a different room! She totally missed that at first for she was dazed upon waking-up and the place was the same color as her room which was red. Hanna quickly stood up then for she has no idea what was this and why she was there. She tried the door so she can check whoever this house belongs to and why she was here. That's when the problem got real, for the door was locked and she couldn't get herself out!
Hanna was now all-over the place looking for a way out, she couldn't find any for everything was locked and still she has no answers in all of her questions. Okay, Hanna needs to calm down if she wants to get herself out of there, she must assume that this is something serious and she needs to get out of there for her safety might be at stake. Escape players, come and help Hanna here escape for she is currently in a situation in a house here which was not even familiar to her. Will you be able to get her out quickly as well as safely?
Red Room Escape is the newest point and click indoor escape game from 8b Games.
Other games by -
Walkthrough video for Red Room Escape (8b Games)