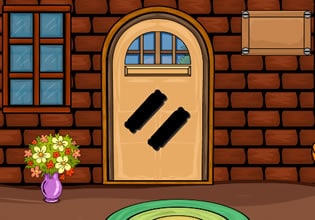 Red Bricks Room Escape
The brick house is quite the place for it is still hiding something people have been trying to find through the years, but nobody hasn't and the place still stands tall and proud. Some people have already began to think that there is nothing to find in there and they have already given up on what opportunities they can potentially get, but there are a few that wouldn't give-up on the house though, and one of them was Gilligan who had now set his camp near the place.
Gilligan have given to account everything that can be discovered there, he even surveyed the ground beneath the place and somehow he found something peculiar, that's why he began to try and find just about anything about it in the place just to get to that peculiar result he got. Gilligan worked on it and somehow he managed to engage something, he triggered a trap and now he could no longer open the door! Looks like he is on to something here for he had triggered something, but first he needs to escape the house so he can think about his next move here. Escape players, you are now Gilligan here and the situation needs careful thinking, do you have that so you can escape the place safely?
Red Bricks Room Escape is the newest point and click indoor escape game created by Games 2 Jolly.
Other games by -
Walkthrough video for Red Bricks Room Escape