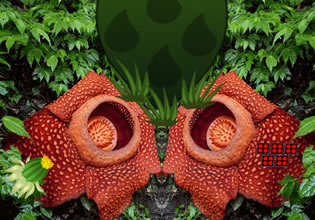 Rafflesia Flower Forest Escape
This entire mountain here is about to be turned into a park reserve, for people who ventures in the forest there are discovering the famous giant Rafflesia flowers farther in the land than they had all expected, as a person who is doing his survey there now, Ricky is indeed seeing more of them in areas they haven't explored yet. But as he was venturing there though, he never thought he'd also get himself lost! Well, now he is and he is having a hard-time trying to get himself out of the situation.
Ricky thought, did he make a mistake at some point or something? Likely, but his thoughts of that are not going to help him now, he needs to think about how to get out of there and not make a mistake again or else he'll be pushing himself deeper into the forest here. Escape players, Ricky needs help to escape the forest with Rafflesias while he still has time, would you like to help him then before it gets dark?
Rafflesia Flower Forest Escape is a brand new point-and-click wilderness escape game from Games 2 Rule.
Other games by -
Walkthrough video for Rafflesia Flower Forest Escape