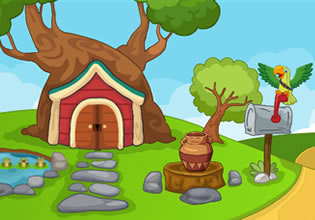 Pretty Little Boy Escape
Delilah was looking for her boy around the area and she had been roaming around but still nothing. Where could that boy be? She had already circled the outside of the house where she would usually find him but he wasn't there. Delilah is very concerned that her son might be lost in the woods nearby, that would be a totally serious problem and she might need to move now. As she was about to leave, she heard her son call for help from inside the house!
Delilah blew a sigh of relief, but she remembered her son yelled help which means he could be in trouble inside the house, or just needed help on something mundane. The former was right unfortunately, her son is actually trapped in a room there and he had been from the start and she just couldn't hear him! Okay, Delilah is now there but she is going to need some extra help for the door there was locked and she doesn't have the key to it. Escape players, would you like to help Delilah free her son by first finding that key the locked door?
Pretty Little Boy Escape is a brand new point-and-click indoor rescue escape game released by Fastrack Games.
Other games by -
Walkthrough video for Pretty Little Boy Escape