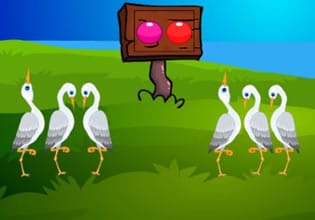 Pretty Bird Escape
The land here which was a vast wilderness is pretty lush and green, but as a resident there Finn needs to survive and that's why he hunts and he has traps around the place. Most of the time he catches something good though and it would fill him up for a day or two, but that day though he seems to have captured something different and to his eyes it was definitely beautiful and different.
One of Finn's traps have captured what looks to be a bird of rarity, he knows of this so for he had never seen such a bird with such a color there before. Well this is clearly not an animal he should acquire, for this is surely rare and this specimen here could be an important one for the survival of their species. He'll free it of course but he needs help here, and you will give that to him escape players. Finn needs help in freeing this beautiful bird here from his cage, will you be able to give aid here for the welfare of this bird as well?
Pretty Bird Escape is another new point and click animal rescue escape game made by Games 2 Live.
Other games by -
Walkthrough video for Pretty Bird Escape