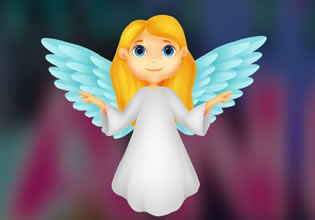 Prettiness Angel Escape
What is keeping this village prosperous is the angel and that being most definitely as she looks, a real angel. As a villager there, Ariel have witnessed this kind of protection and guidance that the angel have given, for the village have been through many strives on different things, but because of this being most likely sent by heaven, the place just keeps springing back. Ariel would like to see the angel that day for she is fascinating and beautiful to look at. But as she arrived at the area though, something was happening to her and she needs help!
Ariel seems to be the first person to notice that the angel was missing, as she tried to find her she realized she was actually trapped in one of the houses nearby! Ariel has no idea why she is trapped and why she can't get out, for this being is magical and cannot be captured by anything. This could mean something serious is happening and this rescue might require a lot more than just elbow grease. Escape players, want to help Ariel here rescue their angel? For every moment she is trapped is trouble for all of them. Delicately with this then, for you have no idea what's really happening.
Prettiness Angel Escape is a brand new point-and-click rescue escape game from Games 4 King.
Other games by -
Walkthrough video for Prettiness Angel Escape