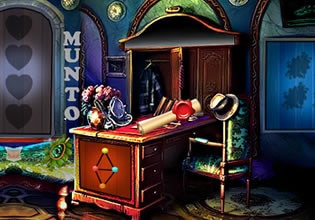 Powerful Irascible King Escape
The king have finally returned from his long travel through the seas, but his ship though when he arrived was weirdly empty. The king's subjects welcomed the ship as it crashed in the docks, it wasn't badly damaged but then again as mentioned, empty. As his subjects boarded the vessel, they were confused how did the ship even managed to travel back safely without anybody in it? Did it got abandoned along the way as it headed in a straight line regarding of the wind? What happened anyways? As one of the king's subjects, Hugh investigated on this for this could be a crime, after all their king was irascible and it's no wonder if some of his men revolted against him. Even then their king is good and governs well, he just couldn't keep his anger and bitterness sometimes.
As Hugh continues to venture the ship, he heard a welp and a scuffle! Finally he said, a survivor, now this incident can be looked into more clearly, better yet too when he asked who the survivor is, the person was actually the king himself! Okay, Hugh needs to get him out but with some help of course, for the small space where he is trapped is currently hard to open. Escape players, will you be that help so the king can be freed?
Powerful Irascible King Escape is the newest point and click rescue escape game from Games 4 King.
Other games by -
Walkthrough video for Powerful Irascible King Escape