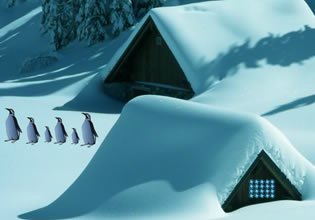 Polar Bear Cub Rescue
A different experience is what you want to have. So this summer, you didn't go to the beach. Instead, you went to South Pole to experience winter in summer. You also like to live inside the igloo for a week. In addition to that, you would love to see a polar bear with your own eyes. With that, you went out of the igloo for stroll. Not for too long, you saw a polar bear swimming in a very cold lake. However, this polar bear doesn't look for calm. Only to find out, her cub is in trouble. The cub is inside the huge pile of ice. You can see the worry in the face of the mommy bear. With that, you have to do something about the situation. You would like to rescue the cub as soon as possible.
However, there are some puzzles that you need to solve before you can do that. Thankfully, there are clues along the way that can help you with those. There are also items in there that you can use for the escape plan. You just have to prevent brain freeze in this cold place. Because, you need to use your logic to help the polar bear cub. Polar Bear Cub Rescue is the newest outdoor escape game by Games 2 Rule. Good luck!