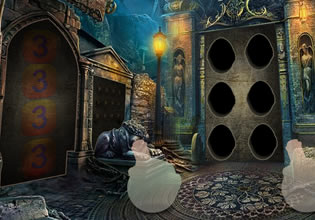 Pleasing Dragon Escape
The village now has its own dragon, but this one is pretty cute and small though and not humongous and dangerous. But soon it will grow as such, the thing with that however is who knows how long that will be. This dragon just roams around the village and playing with the children there, it is getting familiar with the place and its residents. But that day it got trapped and now it needs help!
You just found your dragon escape players and he is trapped in a house there! The thing was struggling to escape, but even so its strength was still enough to break-free from the structure. Escape players, of course you are going to need to help the village's dragon here for this creature is going to be the protector of this place one day. Will you be able to find items and other things that can help break the young dragon free?
Pleasing Dragon Escape is the newest point-and-click animal rescue escape game from Games 4 King.
Other games by -
Walkthrough video for Pleasing Dragon Escape