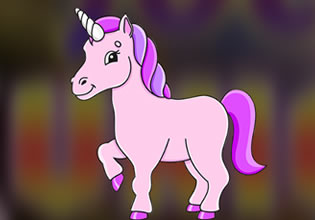 Playful Unicorn Escape
Chris has a very unique and fascinating animal, but he keeps it a secret for it is suppose to be mythical but as he can see, they are not anymore. That said animal was a real-live unicorn! It's real and he found the creature deep in the forest nearby months ago. It was weird though why the animal was very in-tune with him, it went with him as he navigated home and from then he just lets the animal live with him. But since then it has nothing but hardship though, for he tries his best to keep this supposedly mythical animal a secret so that no other people would come and try to take her from him. Well, it seems that somebody is trying to that day, for now Chris is off to rescue her!
Escape players, want to see what happened to Chris' unicorn? Go ahead then, and if you can help him on this then definitely do it so that this unicorn can return to Chris safely. Delicately with this then, for you don't want to hurt this supposedly non-existent creature.
Playful Unicorn Escape is the newest point-and-click mythical animal rescue game from Games 4 King.
Other games by -
Walkthrough video for Playful Unicorn Escape