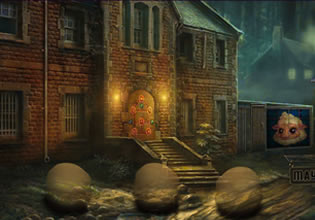 Playful Dinosaur Escape
There is a big lizard here in the town and it is suppose to be extinct. This creature is a young dinosaur and it loves to play with the children there! How did a dinosaur here exist in this modern time? Well, the people don't know but this creature is being treasured by the villagers due to a number of reasons, that's why they keep it a secret from outsiders. The way they do it when visitors comes is that they cage the dinosaur up until the outsiders leave, but that day though when they left after staying for a day, there was a problem and now the young dinosaur needs help!
The key to this cage went missing and he now couldn't be freed from its enclosure! The one who is in-charge of this was Samuel and he is now scrambling and trying to find this key. This is a bit of a problem definitely, but it's not that it cannot be fixed though, he just wants it to be fixed sooner. Escape players, would you like to provide assistance to Samuel here in finding that missing key so that the dinosaur can finally run around the place again?
Playful Dinosaur Escape is a brand new point-and-click animal escape game from Games 4 King.
Other games by -
Walkthrough video for Playful Dinosaur Escape