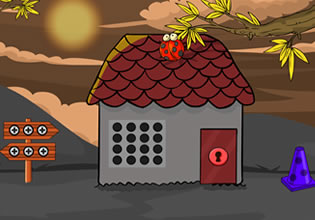 Pizzly Bear Escape
This rather decent closed facility out in the plains is really peaceful and is more in-tuned with nature, well that's because the keepers there are housing an animal which was kind of rare. The keepers are housing a pizzly bear! It is a mix of a grizzly bear and a polar bear but they didn't do this deliberately, it is more like an accident after their main facility had some problems and the two separate creatures mated. One of the bear's caretakers was Matt and that day he is currently alone in the place for his co-workers are back in the main facility. Well, he should have someone there with him, for a problem will spring there and he will have to solve it by himself!
Escape players, Matt needs help there with something a little bit serious and it surely involves their beloved pizzly bear. Want to see what the problem is and if you can ever help with it? Don't leave Matt then for he won't have any help until tomorrow.
Pizzly Bear Escape is another new point-and-click animal escape game made by Games 2 Jolly.
Other games by -
Walkthrough video for Pizzly Bear Escape