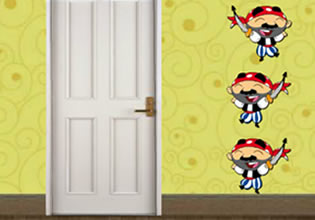 Pirate Kid Escape (8B Games)
Rona went to her cousin's house for her son is going to a costume party and of course, she offered to drive them both to the venue. Her cousin told her that her son will be dressing-up as a pirate boy and he said it's going to be great. Rona is happy to see that, but as she arrives at the place though she encountered a problem, for her cousin was having a hard-time trying to open the door where her son is, and in other words he is trapped in the room there!
Escape players, Rona doesn't exactly know what she can do there, that's why she is going to need some help too. Will you be able to help Rona then so she can help her cousin as well as her son solve this?
Pirate Kid Escape is another new point-and-click indoor rescue escape game made by 8B Games.
Other games by -
Walkthrough video for Pirate Kid Escape (8B Games)