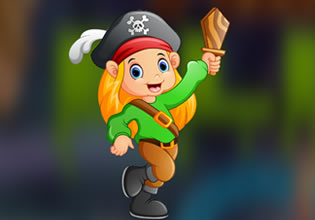 Pirate Blithe Girl Escape
There are pirates going in and out in this coastal town here, roaming around and just about doing normal things. Even though when they are pirates, they never plunder or do anything bad in this town here, for this is a pirate's hub and they even do things to elevate the place. One of those pirates is quite the fascinating person, for she is a girl and even a captain!
There are not many female pirates really, but one should not really mess with them for they have proven themselves tougher than the rough seas. That day though as a villager there who was not a pirate, Hugo will be rescuing this pirate captain girl for she is trapped in one of the structures there near his place! Hugo did not expect this really, he was just doing his daily chores and now this? Escape players, guess this structure is too much for the captain here, but he shouldn't say that in-front of her or he'll get trashed. Will you help Hugo so that pirate captain girl here can be freed?
Pirate Blithe Girl Escape is a brand new point-and-click rescue escape game from Games 4 King.
Other games by -
Walkthrough video for Pirate Blithe Girl Escape