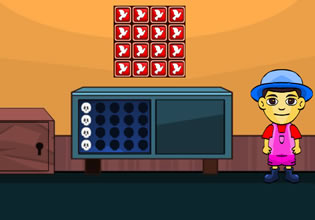 Pink Unicorn Escape
Murdock is housing one of the most treasured beings of the mythical beast kind, and that is a unicorn! It is a very long story of how Murdock got this unicorn, but the short end of it was he went on an adventure to get one of these supposedly mythical beings and he managed to do that, he did what was told of him on how to get one tamed and now the creature stays in his home and was even quite relaxed. But that day though Murdock needs to be a little bit on alert here, for his unicorn escaped from his house and now it is outside in the open!
Luckily it didn't really go far and was just near his home. But at the moment, Murdock couldn't get him inside for the doors would not open! This is really a bad time for the doors to be jammed, Murdock murmured to himself. But he is not wasting time here already for somebody might see this unicorn and cause a ruckus. Escape players, want to help Murdock so he can bring his unicorn in quick?
Pink Unicorn Escape is the newest point-and-click mythical beast escape game created by 8B Games and Games 2 Mad.
Other games by -
Walkthrough video for Pink Unicorn Escape