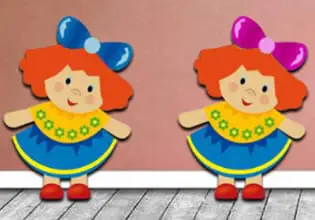 Pink Molly Escape
Jenny haven't met her friend's daughter yet. She was Molly and that's why Jenny will be visiting her friend that day not only so she can catch-up with her, but also finally meet Molly. Jenny arrives at her friend's house and she expected a greeting from her and her kid, but she didn't get that and instead was met with a worrying and panicking friend!
Jenny's friend was trying to open this door which she said where her daughter Molly was currently trapped! It was sudden for her, she just heard her daughter scream for help from her room and when she came to her rescue, she could not open the door no more. Jenny have no idea what happened there either, she only has theories here which she thinks might not be able to help, but she is going to help for they absolutely need it here right-now. What a way to meet her friend's daughter here, want to help-out as well escape players so that Molly can be freed from being trapped there? Play as Jenny then and do your best with the things you can find there.
Pink Molly Escape is a brand new point and click indoor rescue escape game released by 8b Games.
Other games by -
Walkthrough video for Pink Molly Escape