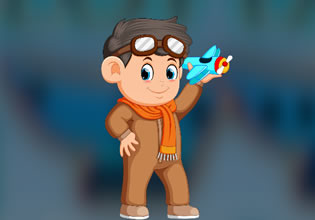 Pilot Dream Boy Escape
The small village here is surrounded by a dark forest and the settlement is the only light-side there. That's why dreams are still being created there despite of the hopelessness that the surrounds the place. One of the dreamers in this settlement was this boy who dreamed to become a pilot, so he made-use of everything he can get just to understand and learn of those man-made flying machines. In his attempt to really fly however that day, he got in some trouble and now he needs help!
The boy got trapped in one of the houses there for his fascination of planes really peaked, he tried to do something just to make a first-step and hopefully bring his dream to fruition in the future, but something else happened though. Well escape players, he has no help there and he really needs it for his attempt in escaping is not working. Will you be able to help the boy dreamer here so he can continue with his goals in eventually becoming a pilot?
Pilot Dream Boy Escape is the newest point-and-click rescue escape game from Games 4 King.
Other games by -
Walkthrough video for Pilot Dream Boy Escape