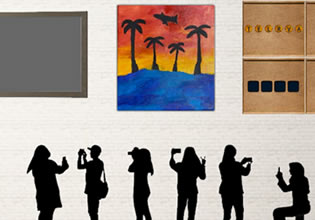 Photographer Escape 1
Christopher's brother who is a photographer needed help that day, for his car broke down and he needs to leave to the studio now for he is starting to become late. Christopher of course will be helping his brother, but as he arrived in his house he found his brother was currently trying to fix a problem there!
Christopher is trapped in his own room and he is definitely trying his best to escape there, for he is hearing him scrambling inside. Christopher couldn't open the door on his side as well, could it be jammed? Well, Christopher is going to help now for he came here to help his brother for he is in a rush, so in a rush he should be to help him there. Escape players, want to help Christopher here help his photographer brother so he can be freed and be on his errands?
Photographer Escape 1 is the newest point-and-click indoor rescue escape game created by 8B Games.
Other games by -
Walkthrough video for Photographer Escape 1