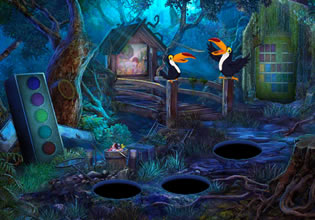 Patience Dog Escape
Joy diminished in the area where Bonnie lives today, for the most joyful and somehow wise animal who lives in the place went missing. This animal was a dog and it's kind of like an icon in the settlement here, that's why everyone is looking for it now. And so Bonnie goes and in the first hour she finds nothing, but when she pushed further on the search she finally found him, and the actual reason why he wasn't coming back was he is trapped in a cage!
Where did this cage come from? Bonnie is concerned of this though and that's why he needs to free the little guy right away. Escape players, Bonnie is not really good with cages here so she is going to need some help. Want to assist her then in freeing the pup? Go ahead then so that it can run around and play again.
Patience Dog Escape is another new point-and-click pet rescue escape game made by Games 4 King.
Other games by -
Walkthrough video for Patience Dog Escape