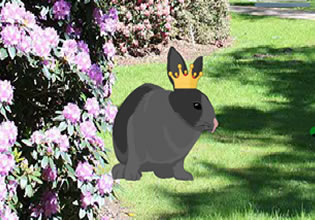 Pair Of Rabbit Escape
Pair Of Rabbit Escape is another new point and click garden rescue escape game made by Games 2 Rule. See if you can help two rabbits in the lush and wide place here. Good luck!
Annie has this wide garden of hers and it's incredible that she did it all by herself! The place is absolutely beautiful and breathe-taking, even her two huge rabbits which are a pair, are loving it and are even frolicking around. One day, Annie freed her two rabbits so they can roam around and they never really break-off from each other, if the other goes there, the other one will follow. That day however, something weird happened and Annie responded to it then.
Annie found her rabbits in some sort of dash disposition and the reason is, they broke-off from each other! Annie thought they could just find each other for they are the kind of animals which has heightened senses, but by the looks of it the two are quite in an uneasy situation. Annie must gather her two rabbits so they can be with each other again, but she must do it quickly though for soon this place will be dark. Escape players, care to join in the rabbit rescue here with Annie and see if you can find two of her rabbits from the wide garden? Go ahead then everyone and have fun on the rescue adventure with us!