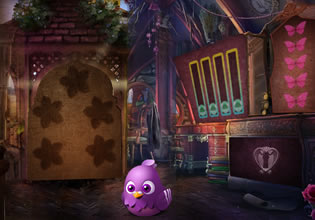 Pacific Monster Escape
This coastal village here is facing directly at the pacific ocean, and also a potential mystical portal there for strange creatures tends to come to the settlement and just roams around. As one of the villagers there, Dwayne sees these fascinatingly strange creatures on a daily basis, that's why he isn't really bothered by them unless they are hostile. That day even, he will come to free one of them for as he checks his storage house outside, he found this octopus creature and he knew very much it was not a normal one.
The creature managed to lock the complicated locks of the storage house, now he needs to find some things just to open it. That thing must be running away from something for it locked every lock there. Well, he needs to get this guy out for he really needs his storage back. Escape players, would you like to help Dwayne here so he can release this thing that's in his compartment?
Pacific Monster Escape is a brand new point and click creature escape game from Games 4 King.
Other games by -
Walkthrough video for Pacific Monster Escape