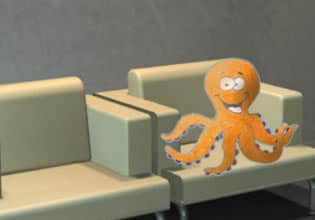 Orange Octopus Escape RE
The orange octopus which was a being that continuously gets away from your grasp is finally trapped in a room there! You have been trying to get it but because it is good at escaping and has excellent memory, plus it has magical capabilities, it's really hard to catch and sometimes even contain. But now you have cornered and stifle a bit of its movements, now it is time to get this creature sealed, but first though you need to get out of the rooms for you really went out of your way just to catch it, even trapping yourself too.
Escape players, you are on this situation actually, and escaping from the rooms here isn't that easy and you know it for you helped put this place up. Will you be able to get out still and get this orange octopus which you have wasted so much effort and time to capture, into a secure facility before it causes more trouble someplace else?
Orange Octopus Escape RE is an edition of old hidden objects/room escape game created by Ainars for Escape Fan. Find some items and solve some puzzles here to get the Orange Octopus out from the house and into a containment place.
Other games by -
Walkthrough video for Orange Octopus Escape RE