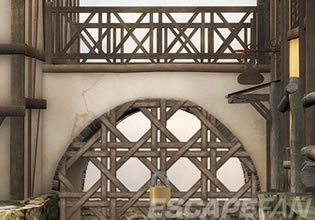 Old Town Square Escape
People are strongly advised not to enter the ancient town for it was being preserved and the stuff there are pretty sensitive, but humans are rebellious and one from the nearby settlement there is not keen to listen. This one was a kid and he was Mitch, he entered the place through the different passages there quite easily. But as he traverses the place, it seems that he had made a little mistake, for he had pushed himself deeper to the point that he doesn't know where to pass anymore!
It's not a little mistake really, for Mitch can push himself in the place further accidentally and get even more lost, so he needs guidance there. He is now stopping in this town square or something where a massive wooden gate was to think, that gate could be the way out but it was locked. Escape players, Mitch needs help here so he can escape the place, will you go ahead and help him? For surely now he would have learned his lesson.
Old Town Square Escape is a brand new point-and-click area escape game released by 365 Escape.
Other games by -
Walkthrough video for Old Town Square Escape