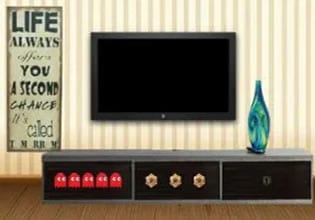 Old Friend House Escape
It's been a long time since you last visit this city. You can remember so many memories. But the thing that you can't forget is your old friend. You can remember playing on the woods together when you were young. Those were the good times that you had with your friend. It is sad that you outgrew him. But you can cheer up right now because you can remember where he lives. You paid him a visit but the thing is, his house is empty. Looks like he also moved to a new place. There is nothing you can do but just to reminisce. You plan to visit other nostalgic places. But the problem is, you can't find the way out of your old friend's house. You don't have the key to open the door.
The good news is, there are items in there that you can use to unlock it. In addition to that, there are also clues in there that can help you to solve the puzzles that you will encounter. All you have to do is to use your logic to escape from the room. Old Friend House Escape is another new room escape game made by 8b Games. Good luck!
Other games by -
Walkthrough video for Old Friend House Escape