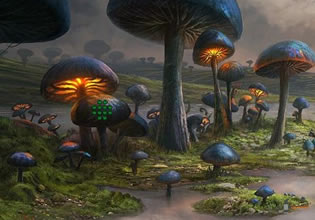 Occult Mushroom Land Escape
Fargo doesn't understand why the people calls this secret mushroom land the occult mushroom land, he doesn't know where this occult thing is coming from for while he is there, there isn't one occult related thing in the place. Fargo just keeps going through the forest still for he admires the giant glowing mushrooms there and the weird vegetation. That day however, something happened as he was there and he might have a little idea about why the people put the occult word in what they call this place.
Fargo is now lost and when he did, he noticed that the fantastic weirdness of the place increased and it is really blinding him. Fargo is having a hard-time in trying to get out of there now and he feels like the place is not allowing him to go free. Fargo feels like he needs help there right-now, but what's bad was he doesn't have any of that here at the moment for he came in alone. Escape players, you are the only help Fargo can get here, will you be able to assist him in escaping from the place then before it consumes him or whatever?
Occult Mushroom Land Escape is the newest point-and-click fantastic wilderness escape game from WoW Escape.
Other games by -
Walkthrough video for Occult Mushroom Land Escape