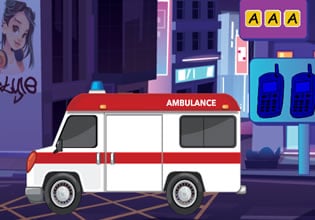 Nurse Ambulance Escape
Rooms in the hospital are starting to run out and the place is starting to get under-staffed there. They need all the help that they can get now, but that evening it seems one of the staff there needs special help for at the moment she is currently stuck! As a person who was in-charge of the ambulances, Reggie keeps them ready for they should be, for any hour of every day an emergency is always present. But for that evening the emergency will already be inside one of the ambulances and it's that nurse and she is actually trapped in there!
Reggie tried to get her out but it seems that the keys of this particular unit was missing! Wonder what's happening here? Said Reggie to himself. A nurse is trapped in there and the keys to the said unit are missing. Sounds very weird, but for this he needs not to call a mechanic or anybody to open the door here, he can do this himself and get this nurse out of there so she can get back to work. Escape players, you will now be playing as Reggie here, will you be able to free the nurse there in any way possible?
Nurse Ambulance Escape is another new point and click rescue escape game made by Games 2 Escape.
Other games by -
Walkthrough video for Nurse Ambulance Escape