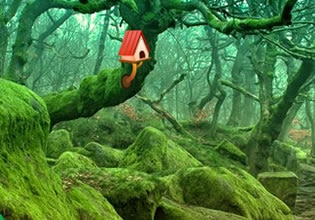 New Year Fantasy World Escape
The fantasy world here is now open and the land is now accessible. Darwin have been waiting for a year until this place is open, and he had been doing that for years. He really has to for not only he is the guardian of the portal there, the place contains magical herbs and spices which he needs and also animals which cannot be found anywhere but there. Now he will go in the place to do what he had been waiting to do there for a year.
Throughout the day, Darwin gathered all that he needs and things that are interesting which he haven't seen before and now, he is heading back to the portal for home. But there was a problem with that though, for he could no longer get to it! This is not good, for if Darwin does not make it to the portal before it closes, he will spend the entire year there! Darwin knows that it will close soon, that's why he needs help now so he can find his way quick. Escape players, Darwin needs a helping-hand here, want to guide him through the forest so he can get back home before his only way to return closes?
New Year Fantasy World Escape is a new wilderness escape game developed by WoW Escape.
Other games by -
Walkthrough video for New Year Fantasy World Escape