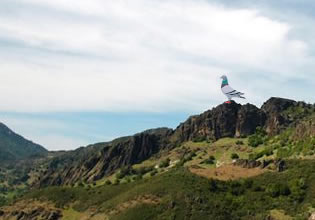 Nature Rock Forest Escape
Lino is going to the forest that day, for he feels like he wants to be in the rocks there for sometimes he finds very special one and some are even quite valuable. The forest is called the rock forest for the reason was pretty obvious, the slabs of stones there pretty much match the amount of vegetation there, that's why thickets are very few for not all vegetation can grow on solid rock. Lino is having a great time there, but as he went though it seems that he had watched the ground for too long, for now he is lost!
Lino found himself in a new area he had never been to. He never thought there was this area he never ventured yet for he had been to the place many times. But he doesn't know where to go now though for the area where he is was pretty new. Escape players, Lino needs a little assistance here for he doesn't know where to go, will you be able to help him then in any way you can?
Nature Rock Forest Escape is a new point-and-click wilderness escape game developed by Big Escape Games.
Other games by -
Walkthrough video for Nature Rock Forest Escape