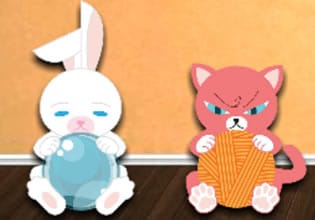 Nanny Grandmother Escape
Janine was currently being babysat by her grandma for her parents is out at the moment and well, her grandma nanny wants to spend time with her. Janine and her grandma played and painted things throughout the day and everything was fine. Trouble only started however when Janine's grandma went inside one of the rooms of the house there and then she couldn't get out!
Janine was definitely scared when she was faced with this situation, for she was just a small child and she really can't solve some serious problems like this here. But she is going to try though for she loves her grandma and she will definitely solve this with everything she has got. What a great kid, okay now escape players it is time to help Janine here for surely she can't solve such a problem here with a mysteriously locked door and it is keeping her grandma in. Will you be able to make this problem a lot easier for her to solve or better yet, solve it all yourself just for the both of them. Will you be able to find things here around the rooms which can help?
Nanny Grandmother Escape is a brand new point and click indoor rescue escape game released by 8b Games.
Other games by -
Walkthrough video for Nanny Grandmother Escape