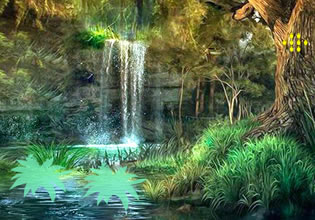 Mystery Flower Girl Escape
There is this very mysterious and very tiny girl in the forest which moves with nature and also is being enclosed by flowers. That being is definitely a fantastic one and even though this forest has a lot of inhabitants in it and people going in and out it, this fairy-like creature is still unknown and pretty much considered as mysterious. But that day though Rowan who lives in the land is now facing directly at her! She is in a bit of trouble though.
Rowan sees the mysterious flowers girl and she seems to be trapped. Rowan really hesitated in approaching her for he doesn't know what may happen and more so that this girl is still very much unknown. But he has a strong feeling that he needs to help her though for it's like this fairy belongs to the land and should be free. Escape players, you will now be playing as Rowan here, how will you do this rescue then?
Mystery Flower Girl Escape is a new point-and-click wilderness rescue escape game developed by Games 2 Rule.
Other games by -
Walkthrough video for Mystery Flower Girl Escape