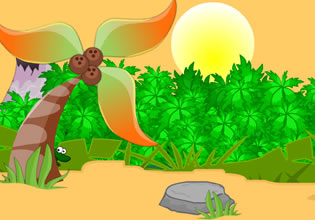 Must Escape Dinosaur Land
Rocky works in the museum here and he loves it, but one day though as he was in the time machine room cleaning some things especially the craft that can travel through time apparently, it suddenly activated which shouldn't for it has a lot of missing things in its mechanism and just like magic, he was transported to the time of the dinosaurs!
Rocky was confused to the bone, he doesn't know how to react on this and even when this was so cool, he is already trying to defend himself from the dinosaurs of the land which were curious of him, that's why he needs to get this machine working again so he can get home ASAP. Escape players, Rocky here is in a very unique situation, will you help him in any way you can so that he can leave this timeline which of course he doesn't belong into?
Must Escape Dinosaur Land is the newest point-and-click cretaceous wilderness escape game from Selfdefiant.
Other games by -
Walkthrough video for Must Escape Dinosaur Land