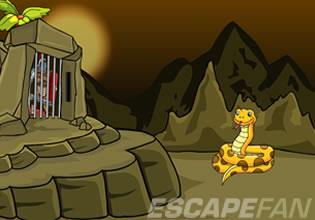 Murmillo Escape
Claudius' area of ruling is starting to lose its hold, enemies are getting stronger and are always ravaging his city, he had just sent a message to the capital to seek help, but help will not be coming for a week or two if they say yes, that's why Claudius is drafting every single warrior he can get to defend his city. At the moment, Claudius is also participating on the drafting, he will come to ask an old friend who was a Murmillo-class warrior and is a really good one, but he is currently experiencing a problem though and he needs help.
Claudius' friend is trapped in a man-sized cage! Guess he is living into the extremes here now that he is not bounded to any army anymore. Guess Claudius needs to win back his friend here, and that's he will help on this problem of his right now. Escape players, Claudius will try to free his friend with everything he has and if he has nothing useful, then he'll have to make-use of the things he can find nearby. Will you help Claudius here rescue his warrior friend from whatever this trouble he got himself into?
Murmillo Escape is another new point-and-click rescue escape game made by Games 2 Jolly.
Other games by -
Walkthrough video for Murmillo Escape