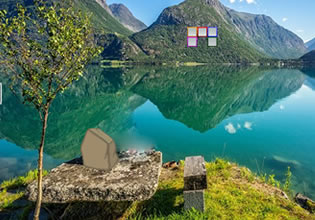 Mountain Greenery Lake Escape
Laura is now in this beautiful place where a nice house stands and around it is a vast mountainous and green wilderness. Laura will be staying in that house for she is on her vacation here. After three days of stay, Laura finally decided to venture around outdoors for she haven't done that yet. It is expected that her adventure around there will be great, but something extra happened though and it's really not good.
Laura got lost in the wilderness and even when she tried to get back, it seems she is only getting more lost there! Laura doesn't want her vacation here to become ruined by this, that's why she sat down for a moment just to get a breather and think. Escape players, Laura needs help here now and because she has nobody with her there, you are the only help she's got. Will you be able to help her then so she can get back to the house before the sun goes down?
Mountain Greenery Lake Escape is a brand new point-and-click wilderness escape game from Big Escape Games.
Other games by -
Walkthrough video for Mountain Greenery Lake Escape