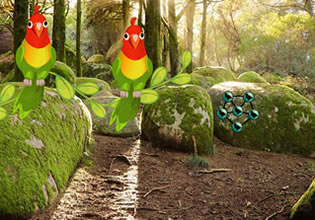 Mossy Rock Forest Escape
Mossy rock forest is the destination of Randy here, he is collecting plant specimens in this forest for there is always a new one which had not been cataloged yet. He is always careful when he goes around this land, for the rocks are mossy and slippery and one can easily get hurt there. It was a routine thing for him roaming around the place, but today is going to be a little different though and it will unfortunately be an issue.
Randy could not find anything new there that day but that's not new, what's new here though is that he got lost and now he is struggling to find his way back! Randy is starting to get concerned for when he tried to fix this problem, it seems to be only getting worst for he might be getting even more lost there in the place! Escape players, Randy needs help here now for this will become a real problem if he doesn't solve this soon, want to help him then so that this can be done?
Mossy Rock Forest Escape is a new point-and-click wilderness escape game developed by WoW Escape.
Other games by -
Walkthrough video for Mossy Rock Forest Escape