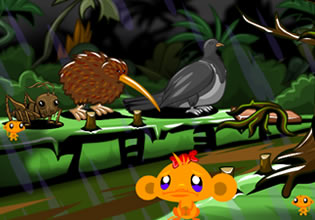 Monkey Go Happy – Stage 712
And the operatives sensed stress-levels concerning mini-monkeys again with their sensors and immediately, an available operative was sent to the location. The place is in this jungle and it's currently raining heavily there. There were animals and a couple of resident monkeys in the area and they are the source of the stresses.
The operative is now seeing a few mini-monkeys running around, his work now begins and he should be quick about it too before they multiply. Escape players, the operative must now do his job in this weather and it will be a little hard. Would you like to help him then so that this task can be done quickly?
Monkey Go Happy – Stage 712 is the newest point-and-click retrieval game created by Pencil Kids. This game is a continuation of the previous one as its sequel, and is a part of the first game as the start of the series.
Other games by -
Walkthrough video for Monkey Go Happy – Stage 712