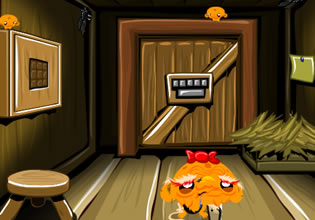 Monkey Go Happy – Stage 706
An operative was sent to this remote area in a cornfield for stress-levels were detected there. An Amish monkey family lives there and they are indeed stressing, that's because these mini-monkeys were present in their area and the little things were doing everything they wanted and it's really a mess!
Grandpa operative is now in the scene and he will do his best to solve the mini-monkey problem here. But the area is vast though and those little things could be hiding in any nook and cranny in this field, so he is going to need some help. Escape players, would you like to assist grandpa monkey operative here so he can get this task done quickly?
Monkey Go Happy – Stage 706 is the newest point-and-click retrieval adventure game created by Pencil Kids. This game is a continuation of the previous one as its sequel, and is a part of the first game as the start of the series.
Other games by -
Walkthrough video for Monkey Go Happy – Stage 706