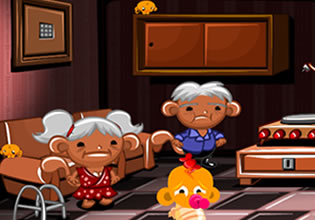 Monkey Go Happy – Stage 704
The next stress signals which the monkey operatives HQ have detected is coming from this monkey elderly home and the residents there are of course stressing with these mini-monkeys scattered across the rooms! These mini-monkeys just came-out of nowhere and they are menacing about in the place. The elderly are getting irritated there for the mini-monkeys are rambunctious. Somebody needs to get them out of there and that is the monkey operatives' job.
And so an operative is now there and ready to do the job. Escape players, the operative here needs a little help for they are having quite an issue there with the retrieval thanks to how many the nooks and crannies in the place where those jumping little guys can hide. Would you like to assist the operative here for they need all the help they can get?
Monkey Go Happy – Stage 704 is a brand new point-and-click retrieval adventure game released by Pencil Kids. This game is a continuation of the previous one as its sequel, and is a part of the first game as the start of the series.
Other games by -
Walkthrough video for Monkey Go Happy – Stage 704