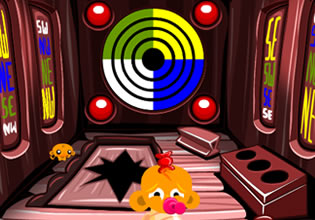 Monkey Go Happy – Stage 696
In monkey planet, Christmas is also being celebrated there. There is also a north pole and a Santa Claus! At the moment, the village where their Santa is operating is currently busy for just like the other Santa, he will also be delivering gifts to the young monkeys around the world. But there was a problem there though and their Santa needs help.
Mini-monkeys are overwhelming the area where Santa is and because of their jumping around, that accidentally got Santa locked in the house where he was and he needs help! The monkey operatives detected the stress levels that's coming from there and that's why they sent their operative to the area. The operative here will have a tough time now, for not only he will be collecting the scattered mini-monkeys there, he will also try to help the trapped Santa! Escape players, would you like to assist the operative here who will now begin his task so it'll end successfully?
Monkey Go Happy – Stage 696 is the newest point-and-click retrieval rescue escape game created by Pencil Kids. This game is a continuation of the previous one as its sequel, and is a part of the first game as the start of the series.
Other games by -
Walkthrough video for Monkey Go Happy – Stage 696