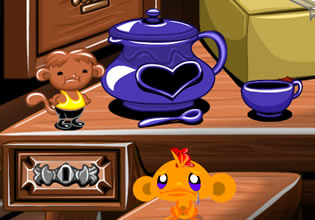 Monkey Go Happy – Stage 691
In this far and unknown dimension which depicts a mini version of the monkeys in monkey planet, mini-monkeys were also there! The place was almost the same as monkey planet where the monkey operatives frequented recently, that's because there are a lot of mini-monkeys in that place lately. But in this place though the ordinary objects there are big and the monkeys there small. That might mean the mini-monkeys there are tinier than the operatives usually face.
Escape players, the monkey operative have now arrived in the place and he will begin his task. It seems that there are other issues there which needs to be solved too, but the operative will first do what he is sent to do there and that is to retrieve all of the scattered mini-monkeys. So will you help him?
Monkey Go Happy – Stage 691 is a brand new point-and-click retrieval adventure game released by Pencil Kids. This game is a continuation of the previous one as its sequel, and is a part of the first game as the start of the series.
Other games by -
Walkthrough video for Monkey Go Happy – Stage 691