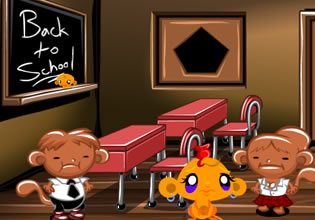 Monkey Go Happy – Stage 665
The monkey operatives have detected stress levels in a specific location on monkey planet. The operative was sent there and the location was actually a classroom and the children in there are all-over the place. All of them are now concerned of the sight of some mini-monkeys in their room and they should be, for those little things can multiply indefinitely in no time and wreak havoc to the place.
Escape players, the operative must work here now as quickly as possible. Want to help then so that this can be done soon and so he can help with some of the young monkeys there as well who were not relaxed at the moment?
Monkey Go Happy – Stage 665 is the newest point-and-click retrieval indoor game created by Pencil Kids. This game is a continuation of the previous one as its sequel, and is a part of the first game as the start of the series.
Other games by -
Walkthrough video for Monkey Go Happy – Stage 665