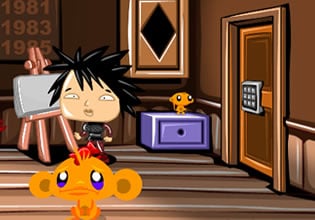 Monkey Go Happy – Stage 643
As the monkey operative arrived in this art school in a room where an art session was currently happening, he began his work for the people that's in there are already shaking and stressing, well that's obviously because of the strange mini-monkeys that are bouncing around there now. the operative is going to have to retrieve all of those but as he did, one student seems to be in-need of help too.
Escape players, want to see what this student there needed? Assist the operative there then, do the job in collecting the scattered mini-monkeys and right after, maybe try to help this student on what was he asking for?
Monkey Go Happy – Stage 643 is the newest point-and-click retrieval escape game created by Pencil Kids. This game is a continuation of the previous one, and is a part of the first game as the start of the series.
Other games by -
Walkthrough video for Monkey Go Happy – Stage 643