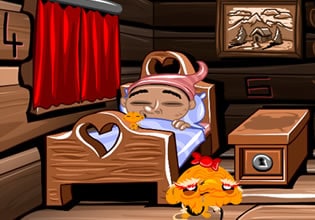 Monkey Go Happy – Stage 617
The monkey operatives have detected a strange stress signal back on the humans' planet and of course they followed it for it has a signature. They arrived to this old house and the monkey operative who was an old one, scanned the place then just to see what is going-on there. The stress signal was coming from this man who was asleep, but his stressing was all about them mini-monkeys. So that's how this is, but there was a thing there in the house though, for mini-monkeys are actually there!
That's very weird, for it seems that this man who was asleep knows that his place is being invaded by mini-monkeys, and now he is stressing because of them even in his slumber. Okay, even though this was weird, the monkey operative must still work for really there are mini-monkeys here. Escape players, would you like to help the operative there who is going to solve this problem? Quickly then before this guy wakes-up.
Monkey Go Happy – Stage 617 is the newest point-and-click retrieval escape game created by Pencil Kids. This game is a continuation of the previous one as its sequel, and is a part of the first game as the start of the series.
Other games by -
Walkthrough video for Monkey Go Happy – Stage 617